How To Nail The Classic White, Timber and Brass Kitchen Look
There is something so classic and coastal about a white, timber and brass kitchen. This combination just works, the white and timber is so relaxed and inviting, with that pop of brushed brass to add glamour and luxury. The warm tones in the brass enhance the warmth of the timber, creating a homely, gorgeous inviting kitchen. Let's discuss how to nail this look for your dream Sunshine Coast kitchen renovation.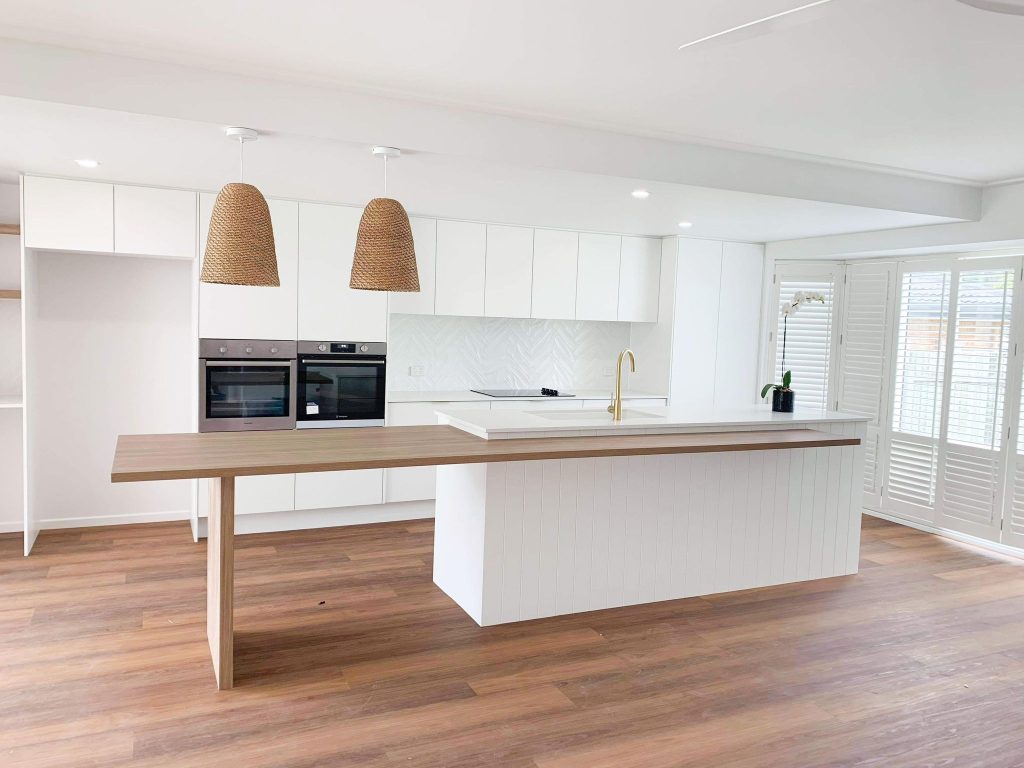 All About That Bass
The base of your kitchen always starts with the flooring. A timber floor, either vinyl or hardwood will add warmth and balance all the white. For this aesthetic, I like a timber that falls in the mid-range brown to blonde tone, not too red and not too yellow. This flooring is a simple Vinyl Plank, Vale 'Spotted Gum' 5mm. If any of your cabinetry is meeting the floor be careful and ensure the undertones match nicely. I also love the ranges of engineered timber flooring for the hardwood look and feel without the price tag.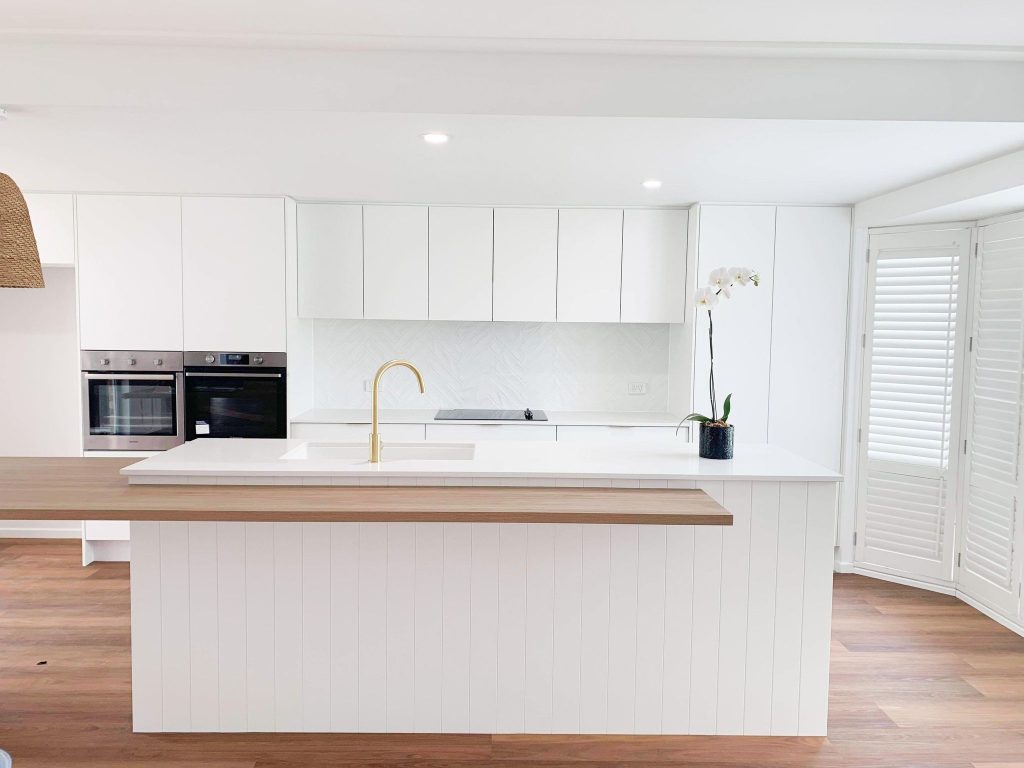 Living the White Dream
The white kitchen is the dream kitchen for so many homeowners. The key to making an all-white kitchen work is by adding textures and balance to keep it from feeling too flat. Here we applied VJ panel to the front of the Island for texture, and the splashback is a simple matte white subway laid in herringbone pattern again for subtle texture. We paired the tile with white grout for an understated finish. White cabinetry in Polytec Classic White Matte opens up this fresh space further, Classic White is a lovely clean, fresh white, one of my favourite Polytec colours. The matte finish feels contemporary and brings coastal-casual charm. The stone benchtop is Caesarstone 'Organic White', again it's a beautiful clean white. Walls were painted in Dulux 'Natural White' which has a peachy undertone to enhance the flooring. Breaking up a beautiful white kitchen with timber is such a gorgeous and timeless combination.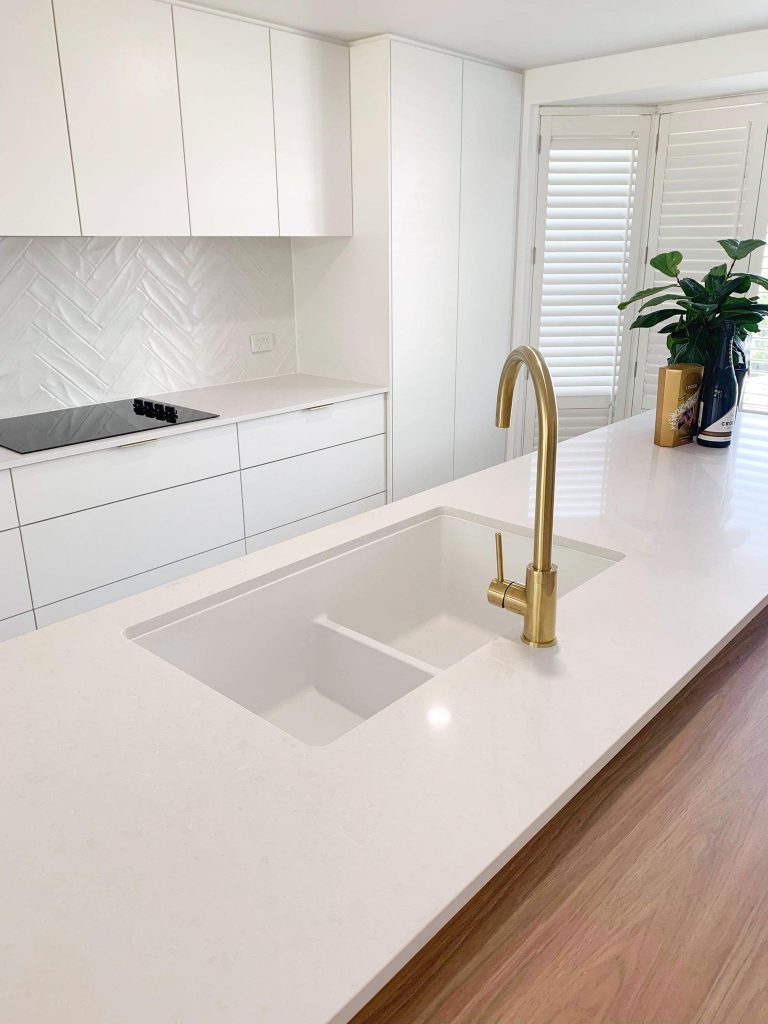 All About That Brass
Brushed Brass tapware adds a pop of glamour to this clean base of white and timber. This mixer from Reece injects the right amount of brass and I love it's clean curve. Push-to-open overhead cabinetry enables a clean aesthetic, however brushed brass handles from Lo & Co on the pantry doors would elevate the gold pop further. Handles can make a kitchen look quite busy so for a streamlined finish, less is more, which is why we went with a slimline lip pull handle in brass on the drawers.
It's all in the Details
This kitchen works really well on its own, but the addition of a Tasmanian Oak breakfast bar further warms and softens the space. Another way to balance the white kitchen is by adding overhead open shelving, simply match a laminate colour to the warm undertones of the timber. The basin is an undermount basin in white from Reece, repeating the white on white theme is the best way to create a clean white benchtop/ basin combo.
Styling and Accessories
Styling and accessorizing your new kitchen is all about balance and harmony. When choosing barstools or seating for your white and timber kitchen, a good option is one that will allow a nice contrast to your Island. White Island? Go for a stool with timber legs. Timber Island? Go for white legs. This rule of balance applies to the benchtops also: white benchtops = timber or natural accessories like breadboards, decorative trays etc. Another tip is to contrast your pendant lights with the overhead cabinetry so again, white cabinetry = natural pendants whereas timber cabinetry = white pendants. Pendant lights are a great way to introduce more texture into this classic kitchen. Natural or woven textures like rattan, wicker, Indonesian fishing baskets or even coconut chips will add a naturalistic texture and charm.
If you are struggling to make design selections and decisions, get in touch, Coco Interiors offers Colour & Finish Selections.