"The best rooms have something to say about the people who live in them"
- David Hicks
Our Services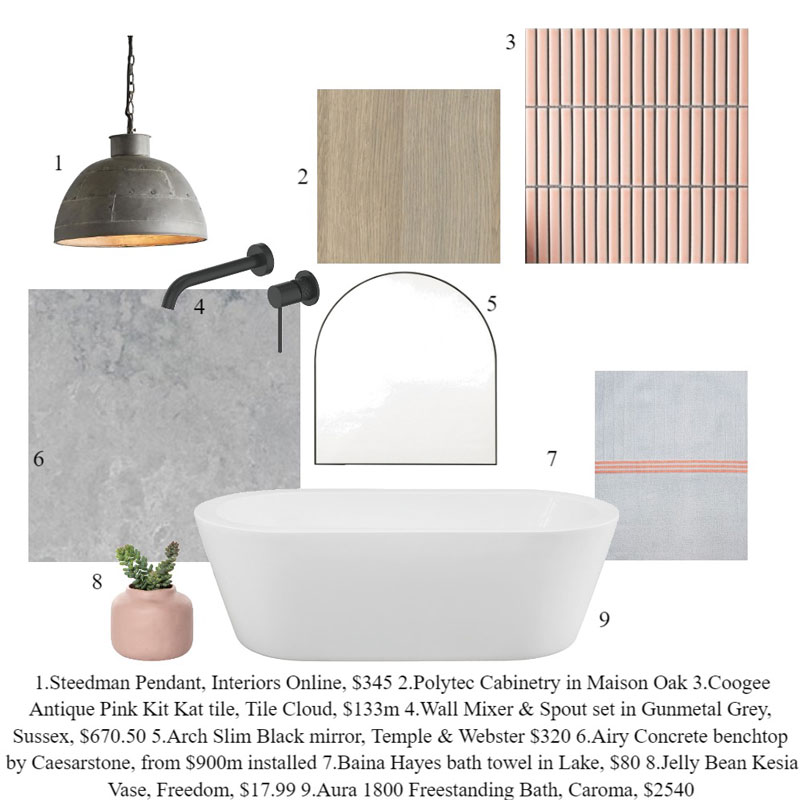 Interior Design
Colour Selections of finishes and materials for renovations and new builds- Interior & Exterior
Selection of electrical and plumbing fittings
Project Documentation including colour boards and schedules
Interior Design Consultation between Builder, Building Designer and Client
E-Design + Mood boards
Interior Decoration
Selection + Supply of Furniture, Art, Rugs and Accessories from our trade partners
Custom Wallpaper and Upholstery
Selection of Lighting and design of lighting and electrical plans
Sourcing of bespoke pieces
Interior styling + Curation of pieces new and existing
Event Styling, Photoshoot Styling
Room makeovers
"Simplicity is the keynote of all time elegance"
- Coco Chanel
Our Projects

Coastal Luxury
Client Brief: Our clients wanted to create something special for their coastal holiday unit. They wished to bring the sea tones into the apartment and repeat the colours of pastel blues, greens, and whites throughout the interior via fixed items like tiles, stone, vj paneling and paint colours. We added softness by soft furnishings, custom fabrics and upholstery, window treatments, and used metallic and reflective surfaces like glass and mirror to enhance and reflect the natural light. This project was a dream come true for everyone involved!
Mood Board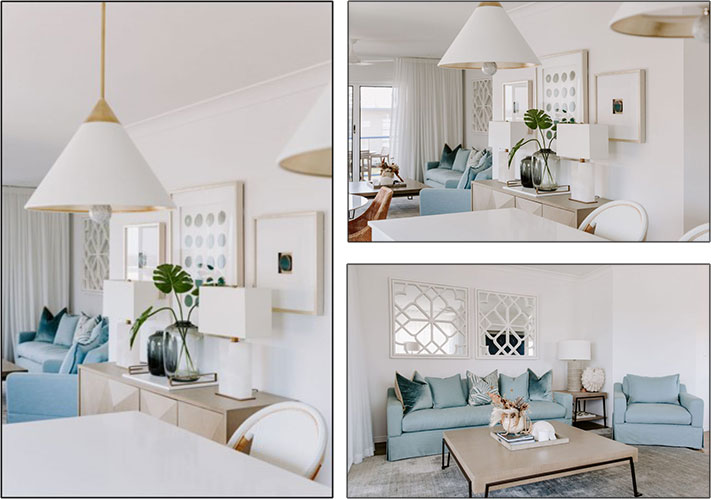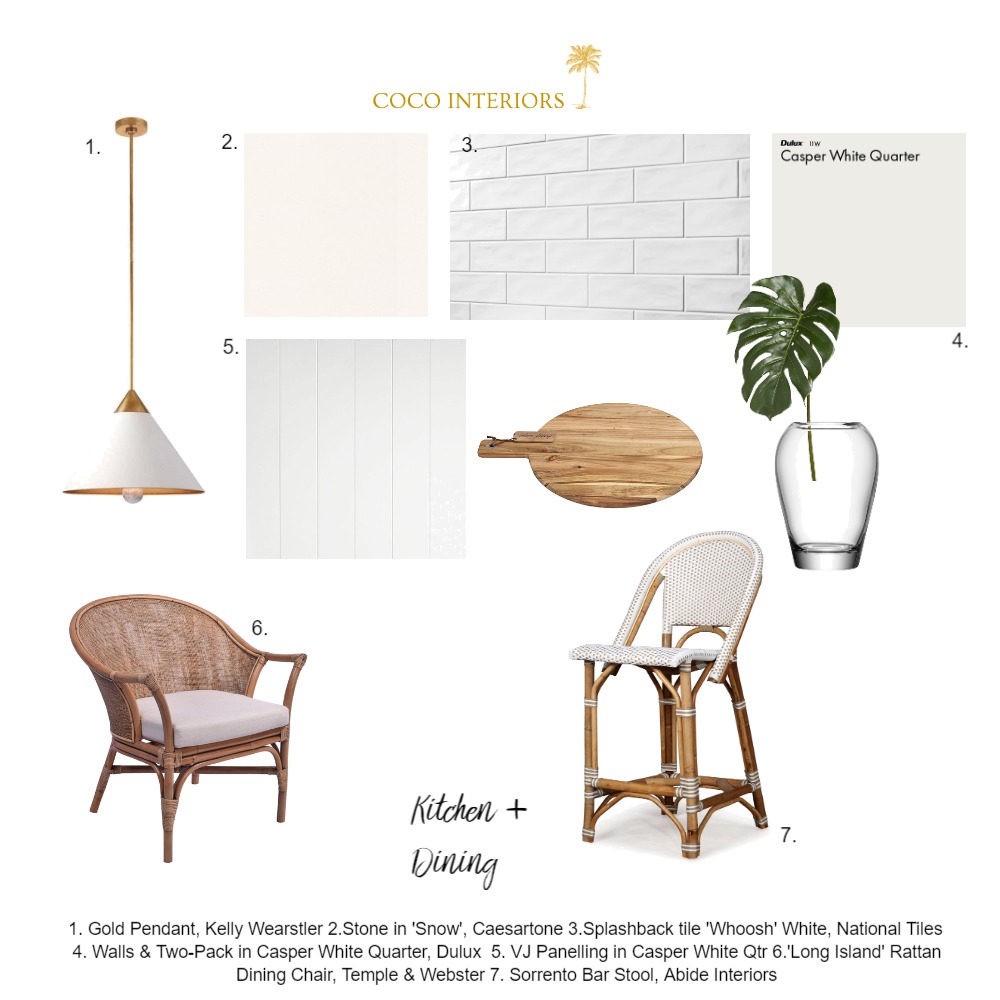 The kitchen and dining zone is a great example of mixing metals. Many people fear mixing metals but this area shows how the warmer gold in the pendant bases pick out the timber and warm tones, while the silver pulls and handles in the kitchen tie in well with the whites and blues. The overall effect is harmonious as the colours in this story all balance and complement one another.
Mood Board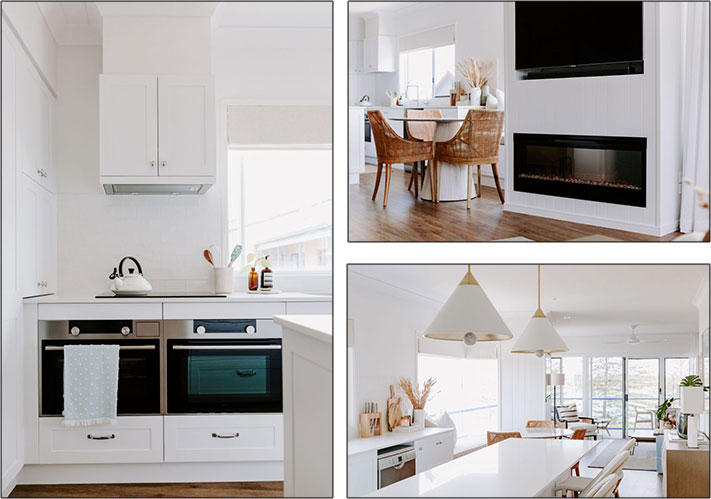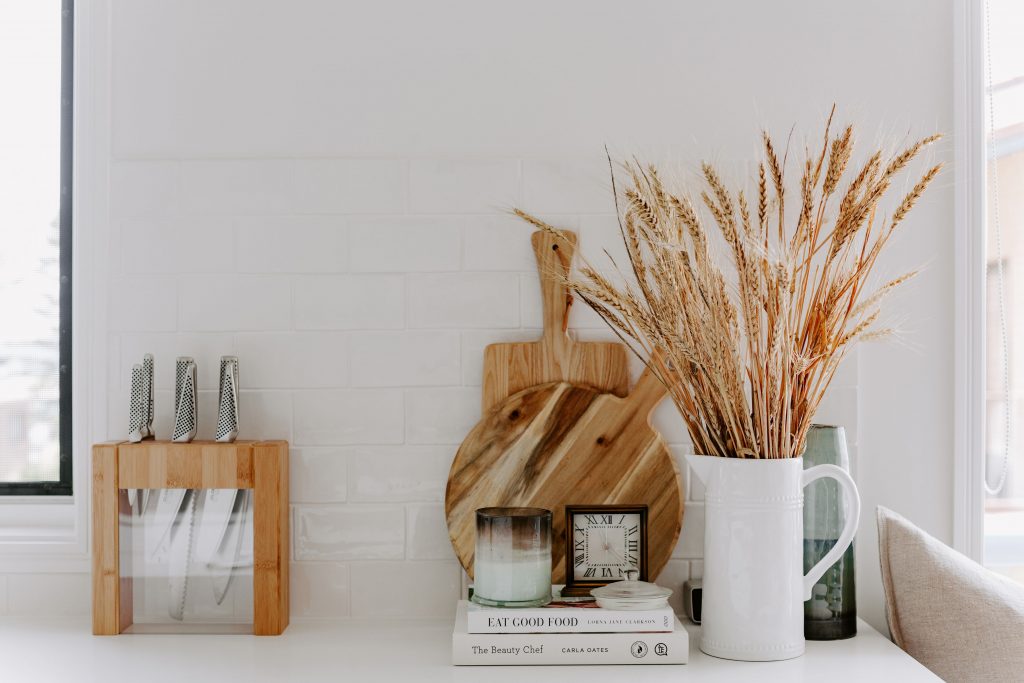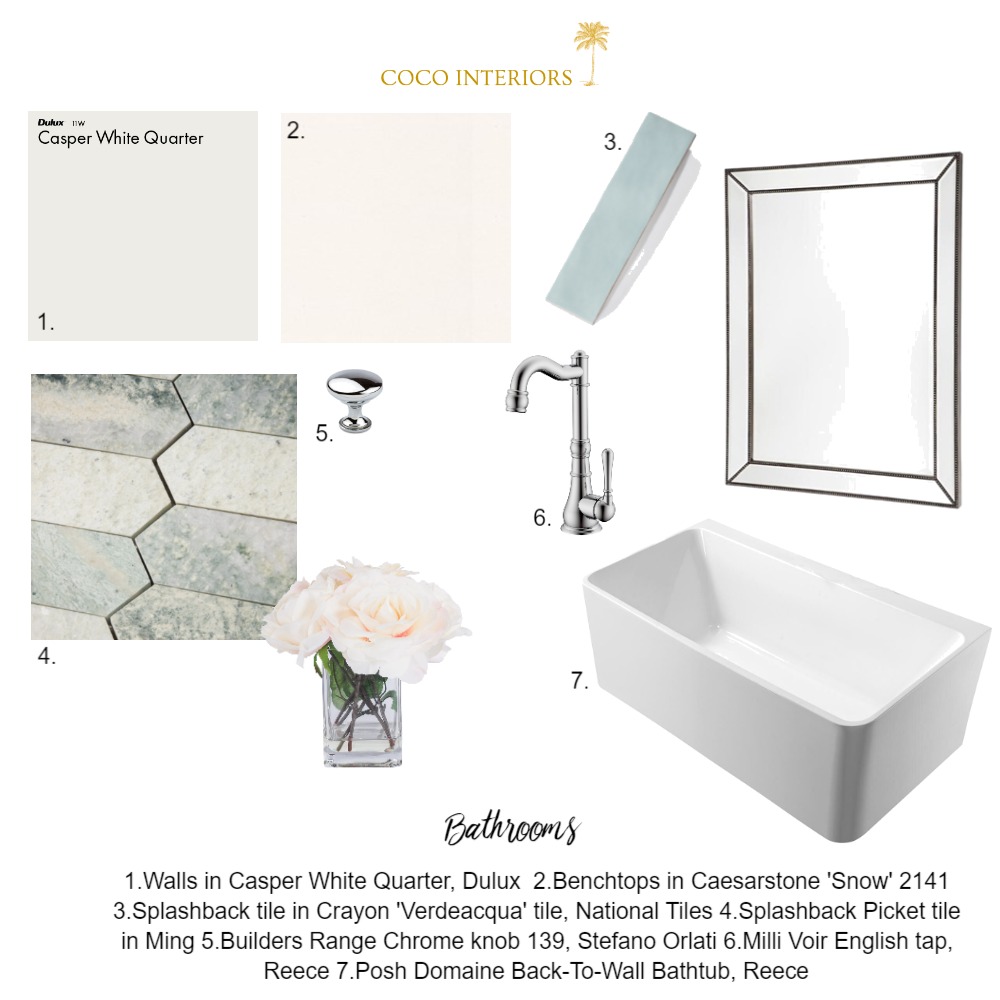 The bathrooms in this project demonstrate how you can tile just the wet area's and skirting as opposed to tiling floor to ceiling. This way you can spend money on your statement tiles that you absolutely love and utilize a simple, inexpensive tile for your wet area's. Simply paint the walls the same colour and no-one will notice!
Mood Board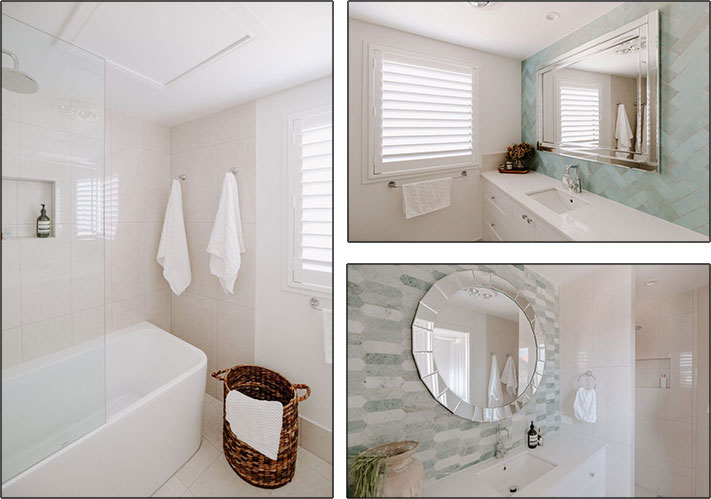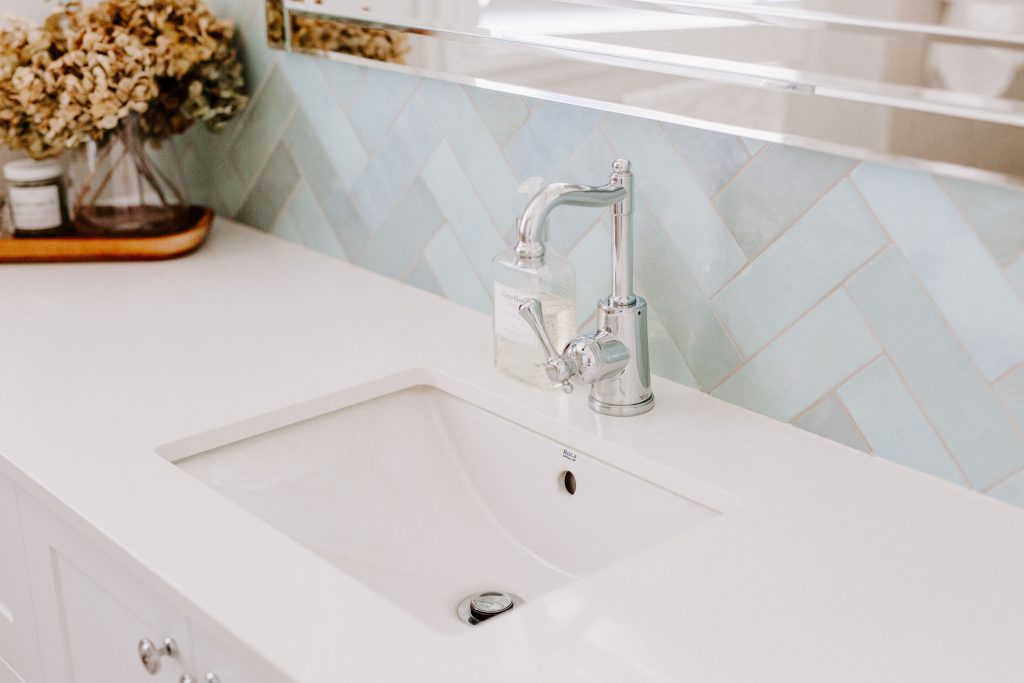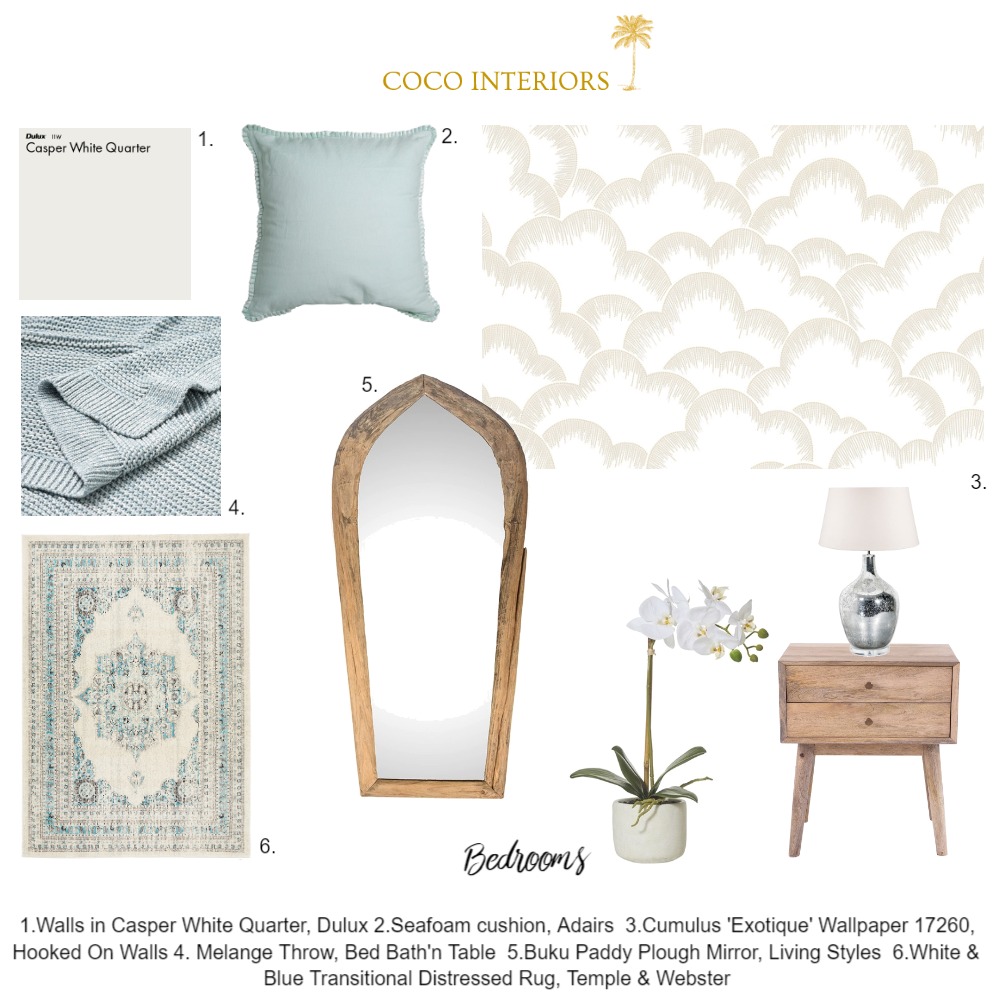 The bedrooms showcase how to use layers of white and neutrals to create depth and softness in a space. The white-on-white interior style is gorgeous but must be done correctly to avoid looking flat, cheap and sterile. Simply add layers of texture via soft billowing sheer curtains, a beautiful textured rug, and luxurious white linen and throws. Extra points for a gorgeous, patterned wallpaper!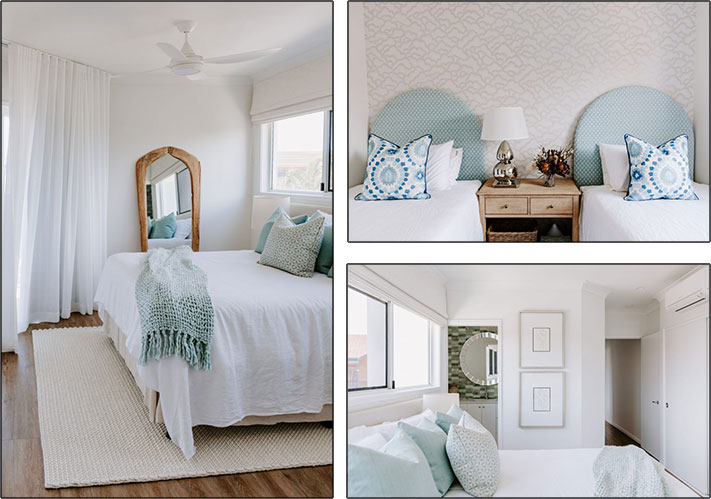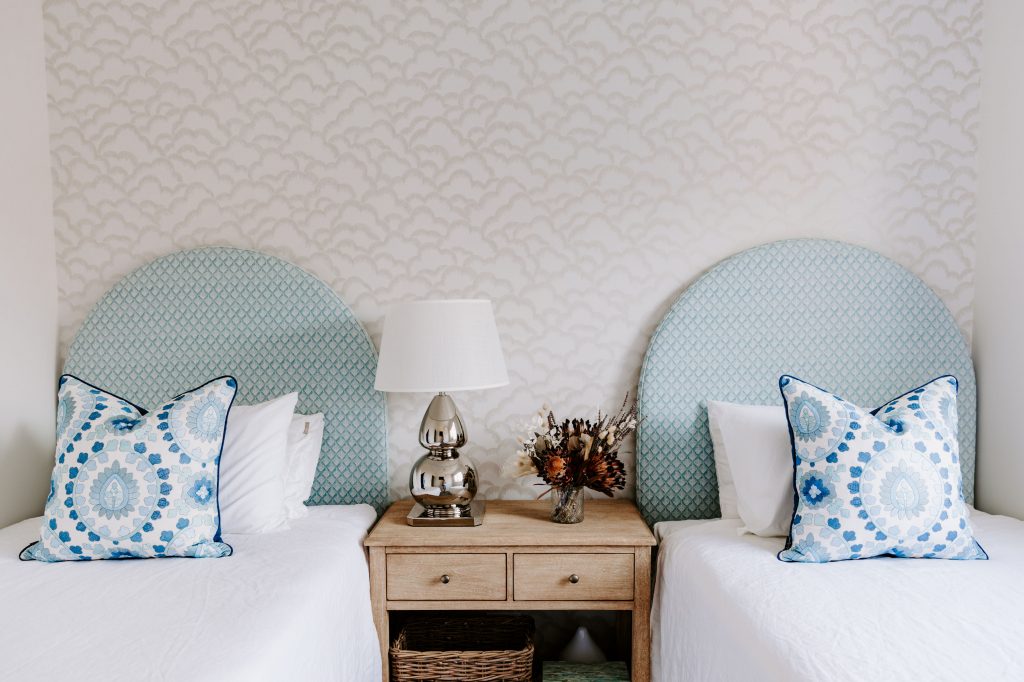 Maroochydore Home Renovation
Scandi Lux
Client Brief: To select all the internal and external colours and finishes as well as plumbing fixtures for their upper storey renovation project. We selected the stunning 'Cava Borghini' Tile, in a 600mm x 600mm size, rectified edge and satin finish, and specified that they were laid floor to ceiling to maximise their effect. We paired these gorgeous tiles with warm 'Spotted Gum' vinyl plank flooring, and creamy wall colour and cabinetry to pull out the gold, grey and honey-hued veins within the tile. The overall effect blends seamlessly with the existing home and the warm tones tie in perfectly with the existing timber door frames and skirting boards they kept on the lower floor.
Mood Board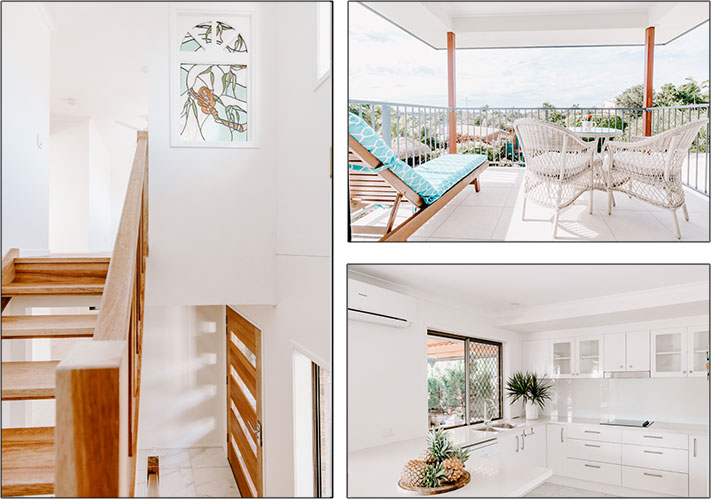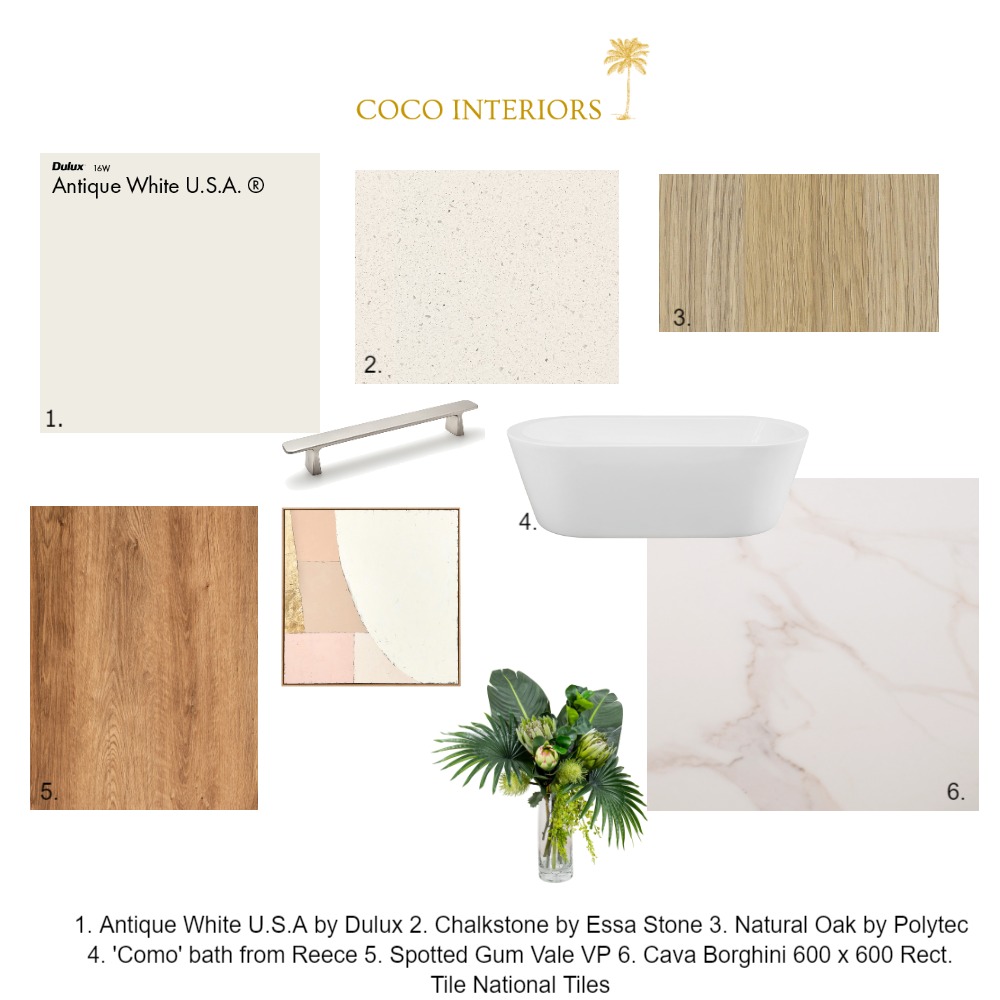 Testimonial: 'We love our new extension and how smoothly it blends in with the existing lower level. Sophie nailed our brief which was warm and inviting, all the paint colours and finishes she helped us select really enhance the beautiful tiles and the whole colour palette just reflects us and our style so well'.
-Doug & Marilyn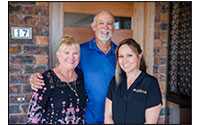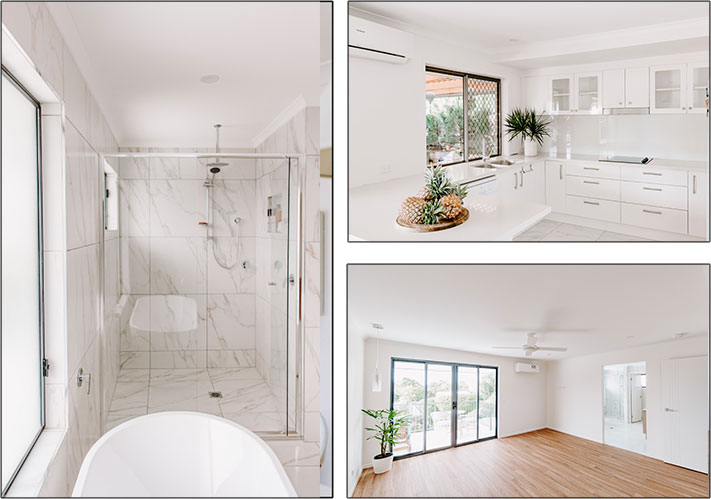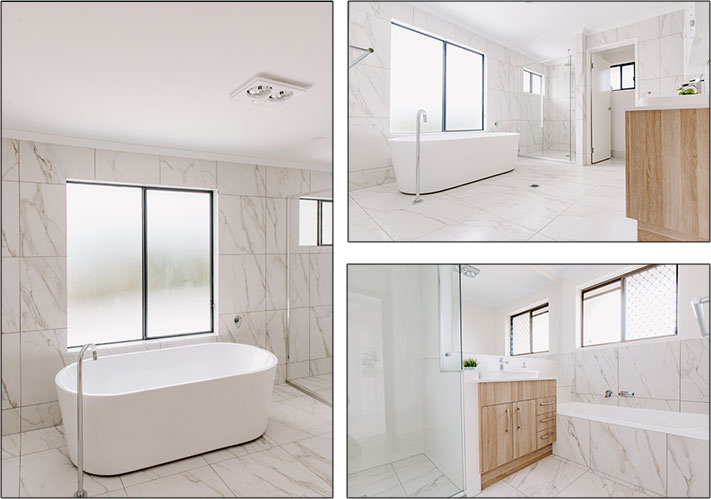 Kings Beach Beachfront Unit
White On White
Client Brief: Our client loved the popular and coastal Hamptons aesthetic and wished to incorporate this look throughout her beachfront unit renovation. We used cool, elegant whites and greys to create a classic and stylish Hamptons base to underpin her chic new black and white furniture.
Mood Board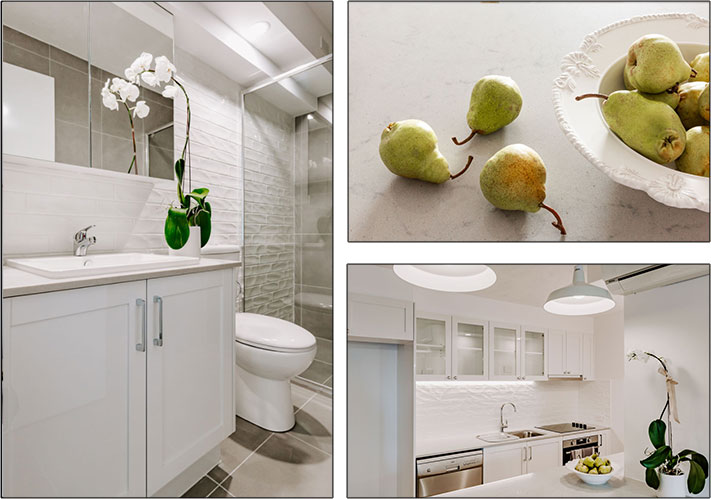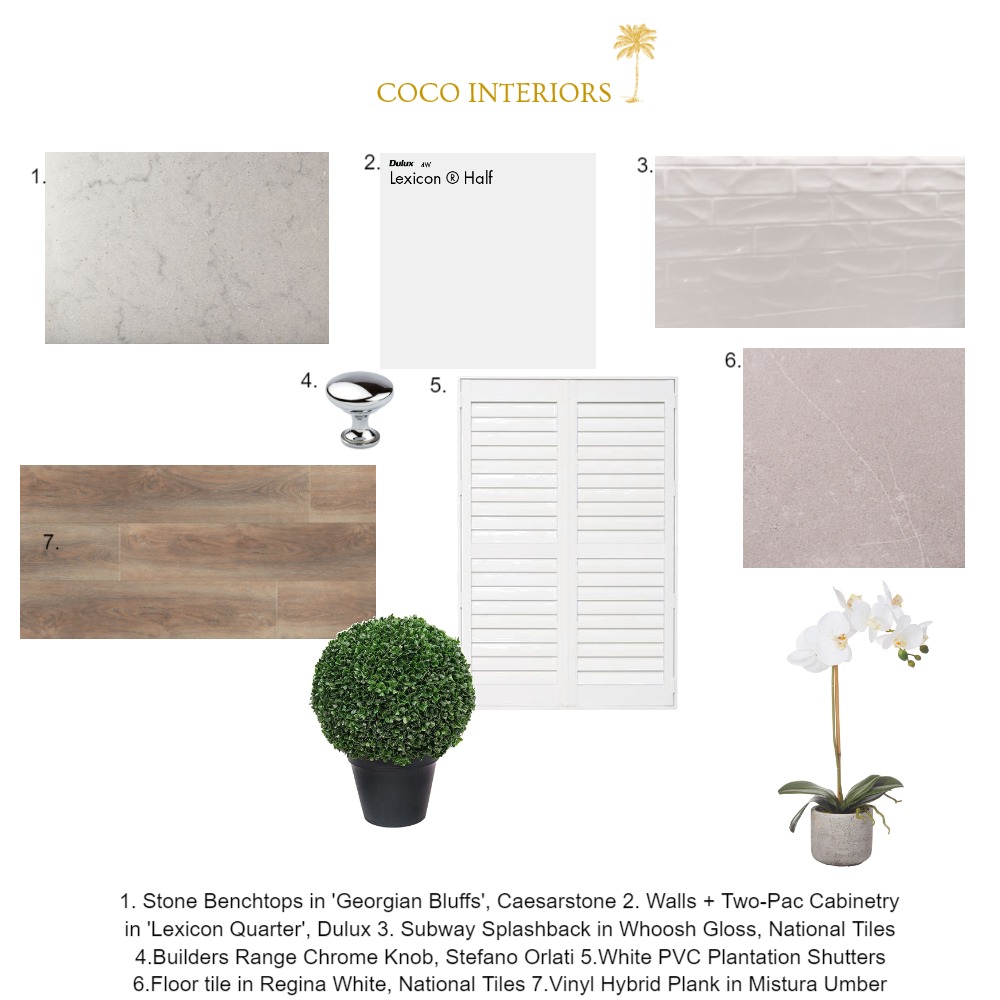 Testimonial: 'I knew what I wanted but Sophie helped me pull everything together. I was worried that the Georgian Bluffs Caesarstone would look too grey but Sophie assured me it would lighten up in the larger slab size. When we saw the stone installed I absolutely loved it, and she was right- it's the softest grey and it looks much whiter and looks beautiful with the white cabinetry and tiles.'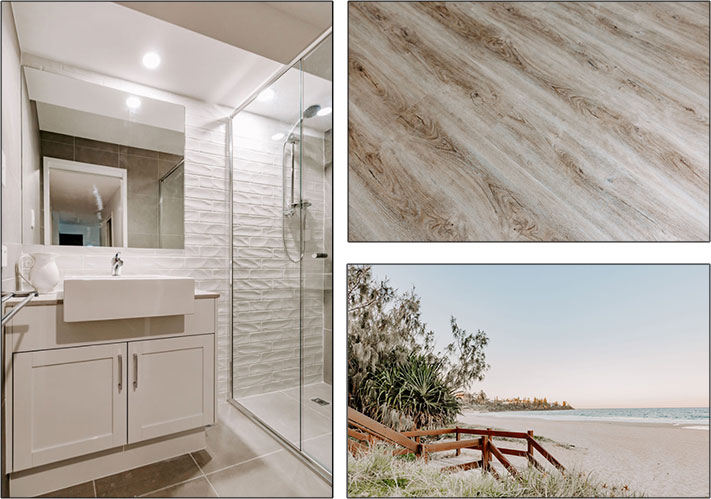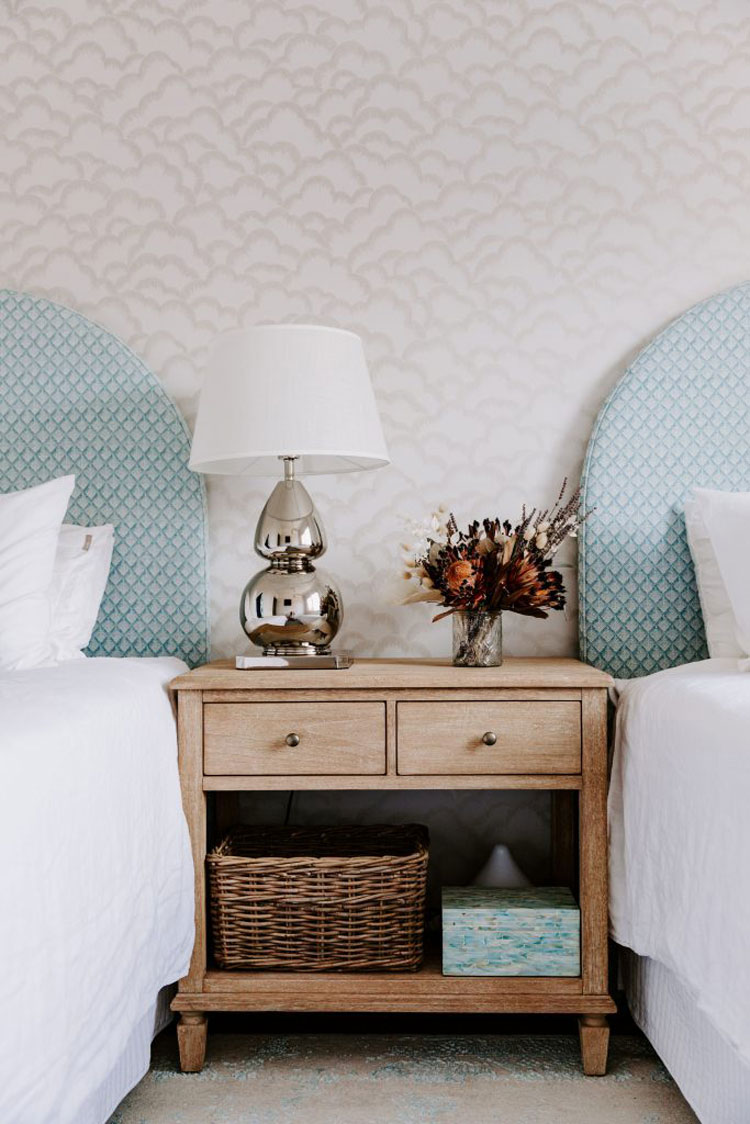 Get in Touch
The coconut palm swaying in the breeze is coastal, relaxing, and glamorous. Our vision is to help you create a space that makes you feel like you are on holidays every day, a space that completely reflects you, your taste, and your lifestyle.
We'd Love To Hear From You!