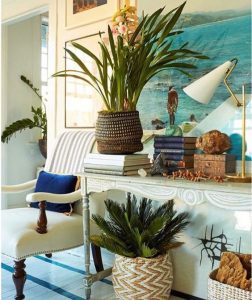 British Colonial: The Interior Style We Love And How To Get The Look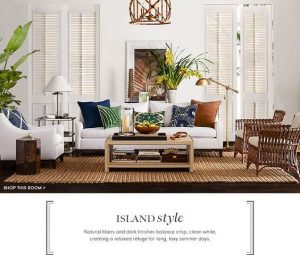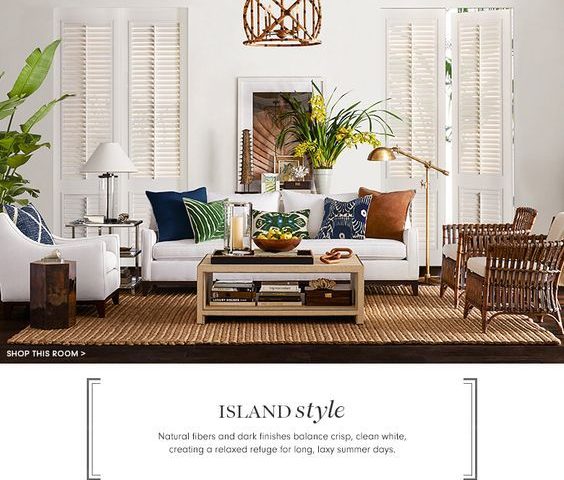 You may have noticed the term 'British Colonial' as an interior design style. So, what exactly is British Colonial style, and how can you adopt the features of this look throughout your Sunshine Coast home interior? Let's discuss this iconic, elegant interior styles' origins, its trademark features and how you can incorporate them into your home. 
British Colonial style is a style created by the British explorers of the 15th, 16th and 17th Centuries, also known as the 'Age Of Discovery', where explorers discovered the America's, the coasts of Africa, the Middle East, India and East Asia. These pioneering explorers created a unique interior style, with their travel- influenced characteristics including leather trunks, light, fold-able bamboo chairs which they planted between heavy, dark timber furniture. Sketches of local flora and fauna adorned the walls, Plantation-style fans and furniture were abundant and in keeping with the hot and humid local destinations. Styling often included artefacts collected from their travels- Chinese ginger jars, tropical indoor plants, orchids, animal prints and skins, and seashells.  
This classic, timeworn look can sometimes look a tad heavy and dark, so how can you bring this look in your modern, contemporary home? The key is by keeping colours fresh (whites over creams and beige's); balancing heavy, solid furniture with light, 'leggy' chairs and pieces; using tropical indoor plants with oversized foliage, to add life and energy to a room; and using subtle texture to add an earthy charm (via natural jutes, raw timbers, marble, seagrass, and sea-shells.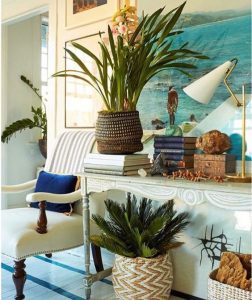 Image: Laurel Bern
Take notes from Laurel Berns' Coastal, Colonial-style living room. The natural colour palette of blues, greens, whites, leathers and timber is a good foundation for building a British Colonial inspired room. Textured, sea-grass baskets and inviting, comfortable seating are a must!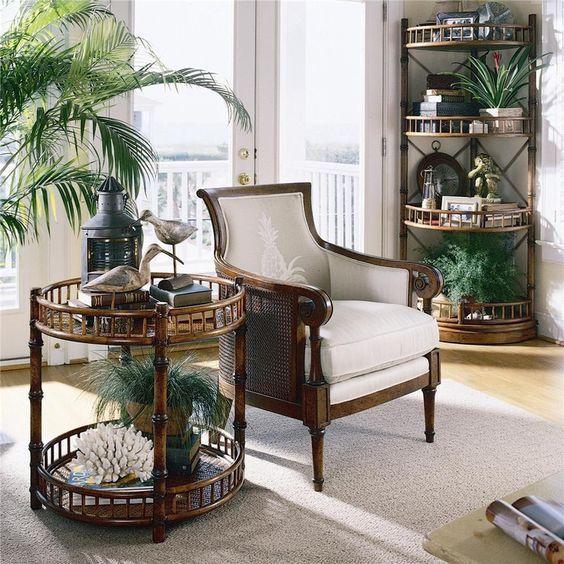 Image: flr-interiors
Here, a quiet and elegant reading nook is created by pairing a dark timber framed armchair with a Plantation-style furniture, styling and greenery. One of our favourite Sunshine Coast stores Oz Design Furniture has a fabulous range of similar British Colonial pieces in their 'Bungalow' range.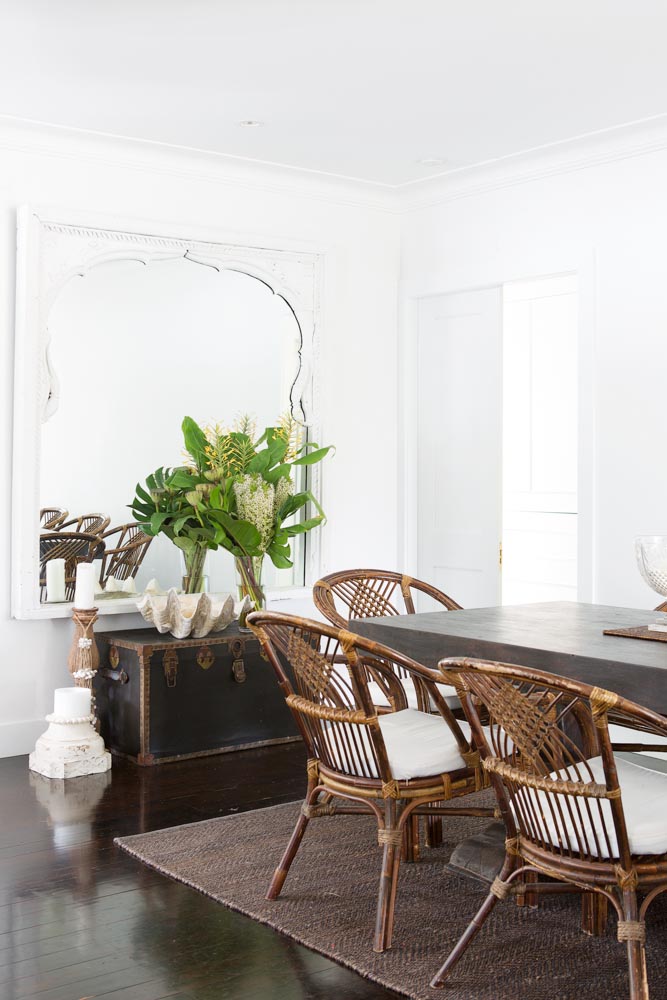 Image: The Rhapsody
The relaxed, holiday vibe of Alanna Smits's dining room has a defined British Colonial stamp on it. The vintage trunk, giant clam, dark timber flooring and Plantation-style chairs pair beautifully with the concrete table and white-on white interiors. The dark on white contrast is a trademark of British Colonial and Alanna has achieved the perfect balance between traditional and contemporary design.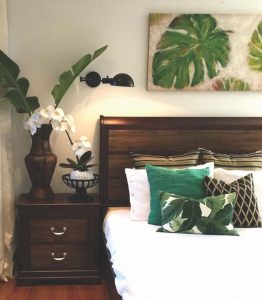 This luxurious bedroom employs pure white linen against dark furniture; botanical prints in the soft furnishings and artwork; a gorgeous Phalaenopsis orchid and Bird Of Paradise leaves for styling, giving it an overall fresh and elegant aesthetic. The perfect bed end for a British Colonial-inspired bedroom is the Belize Bed End from our trade partners and friends at Abide Interiors.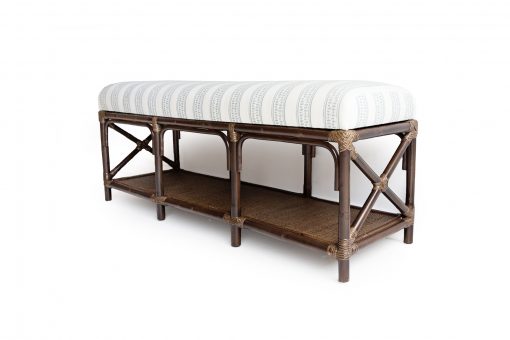 The gorgeous Belize Bed End in Espresso would perfectly suit a bedroom designed in the British Colonial aesthetic and is available from Abide Interiors. Get in touch if you like any of the beautiful Abide products as I can get you a good price 🙂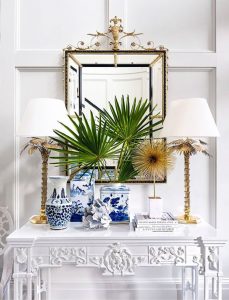 This stylish, textured console table with ginger jars and foliage hints at British Colonial style without completely immersing itself in the movement. The white and gold colour palette creates a luxurious, contemporary and glamorous interpretation of British Colonial.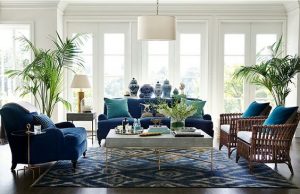 Image: Williams Sonoma
The blues, greens, large indoor plants, ginger jars, bamboo furniture and high ceilings, white window treatments and white touches make this room both modern, balanced, luxurious, and elegant. The British Colonial style harks back to a gentler time without technology and relaxed seating arrangements were typical of this time.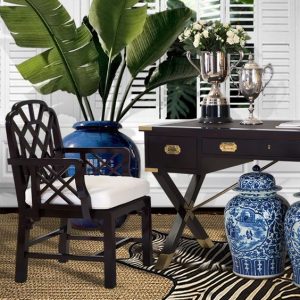 This picture encapsulates many characteristics of British Colonial design- a Zebra hide, Chinese ginger jars, white walls and soft furnishings, dark timber furniture and blues and greens throughout.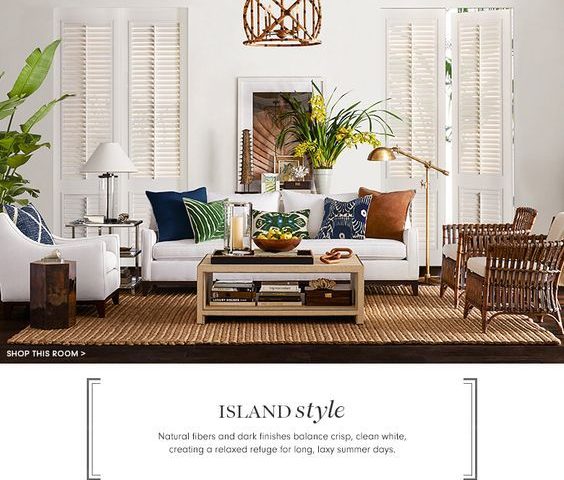 This modern living room is beautifully balanced with earthy, natural finishes giving it touches of the British Colonial trademarks, while keeping contemporary and classic. The rattan ceiling pendant cover, the jute rug and lush plants add texture to this harmonious living space.
If you would like to discuss British Colonial style (or any other design!) and how to incorporate this charming aesthetic into your Sunshine Coast interior design, please get in touch! Coco Interiors offers full interior design, building colour selections, interior decorating and more services here.