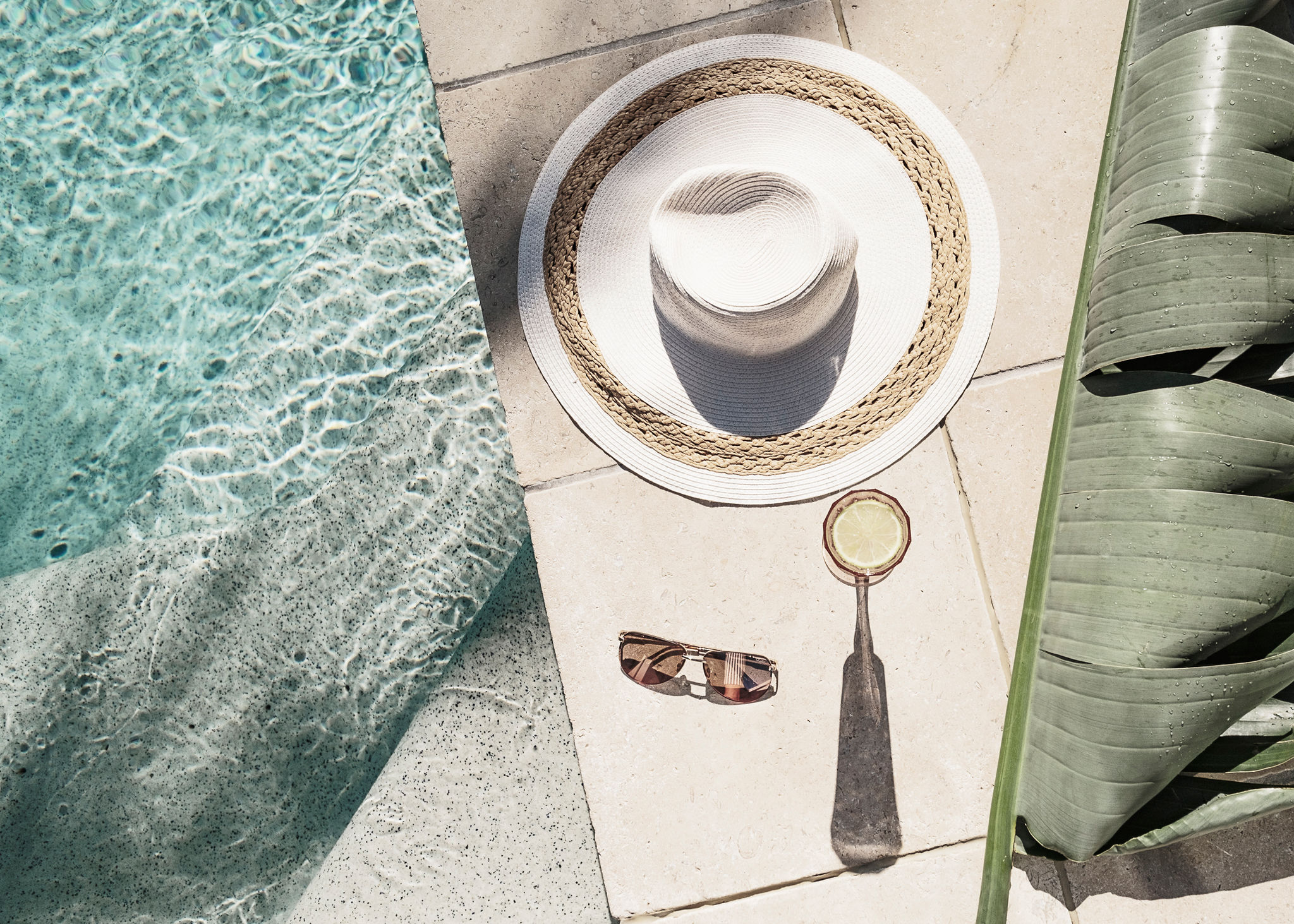 Creating The Perfect Pool Party
Hosting a backyard pool party is one of the highlights of the Summer season, and is what life is all about. We recently teamed up with Carly from Carly.Co and Brad from Osbourne Family Builders to create a fun, Summer pool party! Carly captured some gorgeous shots showcasing our Sunshine Coast lifestyle, where we celebrate outdoor living and entertaining. Like a cocktail, there are several ingredients to creating a successful pool party. The most important thing however, is to be relaxed and encourage your guests to do the same. Simply create the setting, put out some snacks and cold drinks, invite some friends over and you'll be living your best life! Check out our top tips for creating the perfect pool party, as well as some beautiful Sunshine Coast Summer vibes and scenery.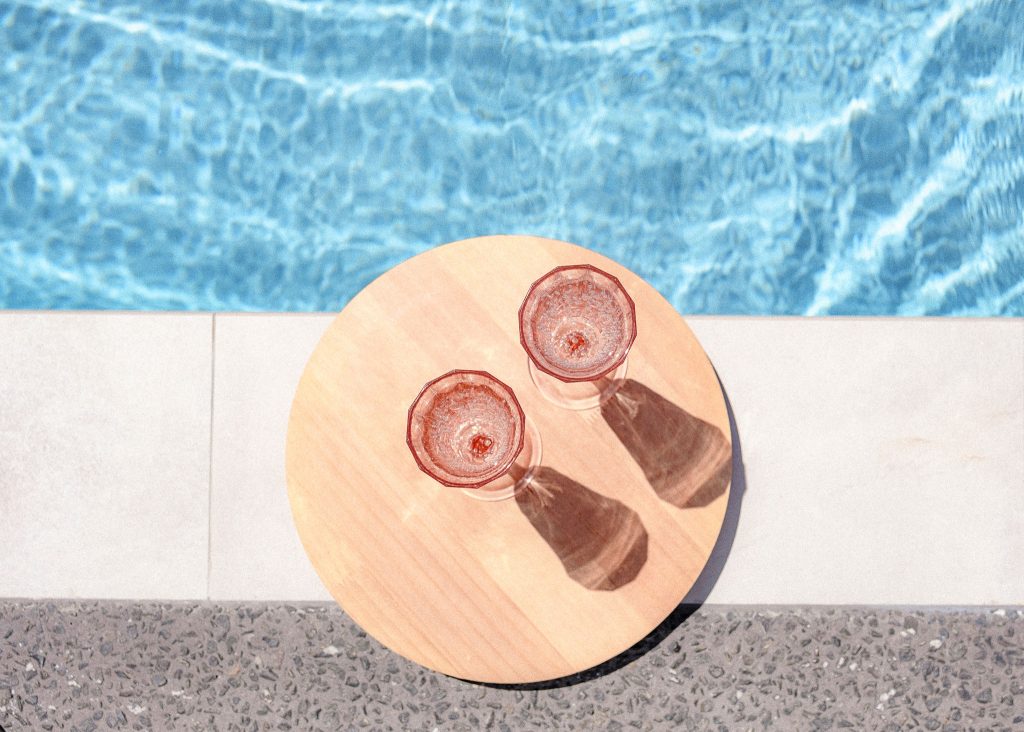 Cold drinks are a must! Use large flat trays to balance food and drinks on. The combination of uneven outdoor surfaces as well as people moving from seated to standing position can create havoc on your pool party. No-one likes their champagne knocked over! Bring your champagne bucket outside and fill with ice so your guests can help themselves to a cold beverage.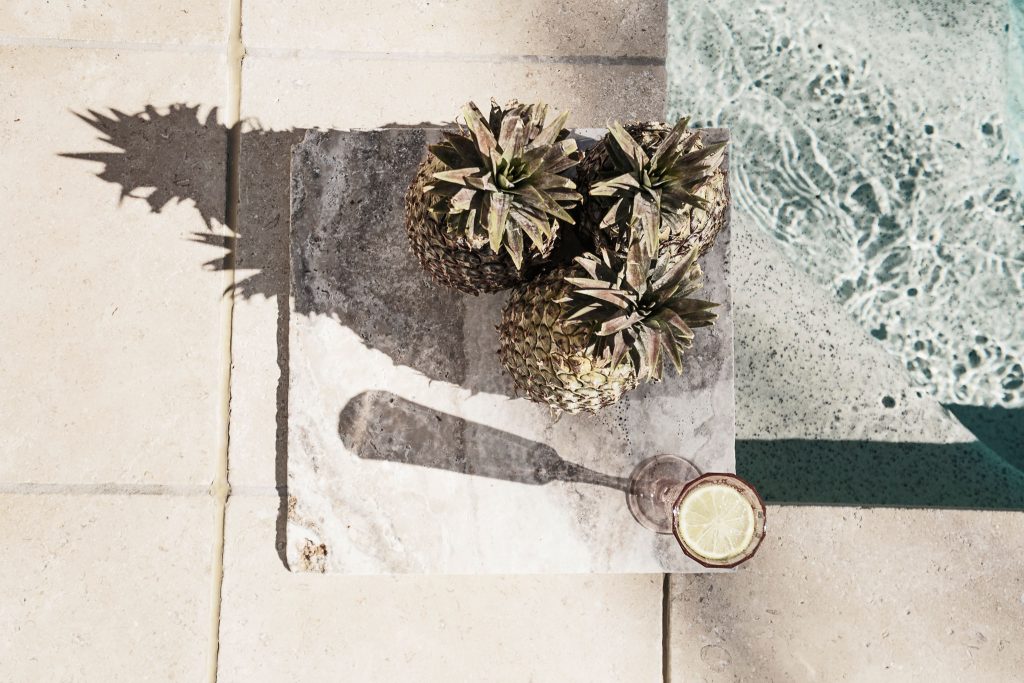 Fresh fruit is a stylish addition. Source seasonal and refreshing Summer fruits such as pineapple, watermelon, berries, figs and lychees. The warmer months have the best fresh produce on offer, so make the most of it and treat yourself! Style your fresh fruit with lashings of fresh mint, lavender and rosemary.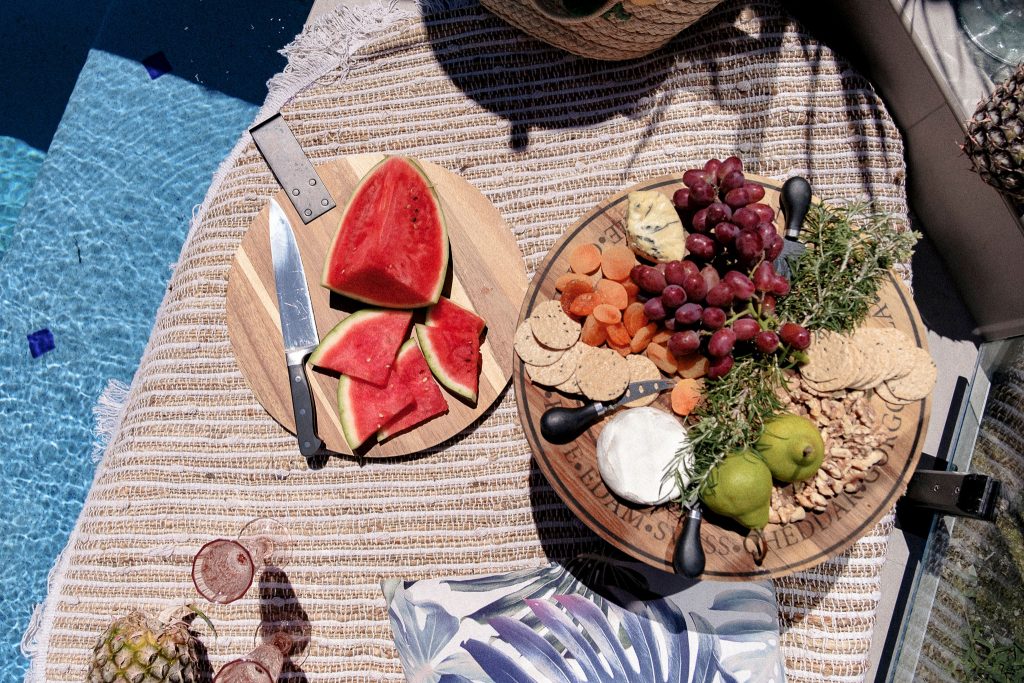 A cheese platter is an easy way to entertain outside. A selection of cheeses, crackers and dried fruits is a simple and classic choice for a pool party. Just mind the cheese isn't placed in direct sun!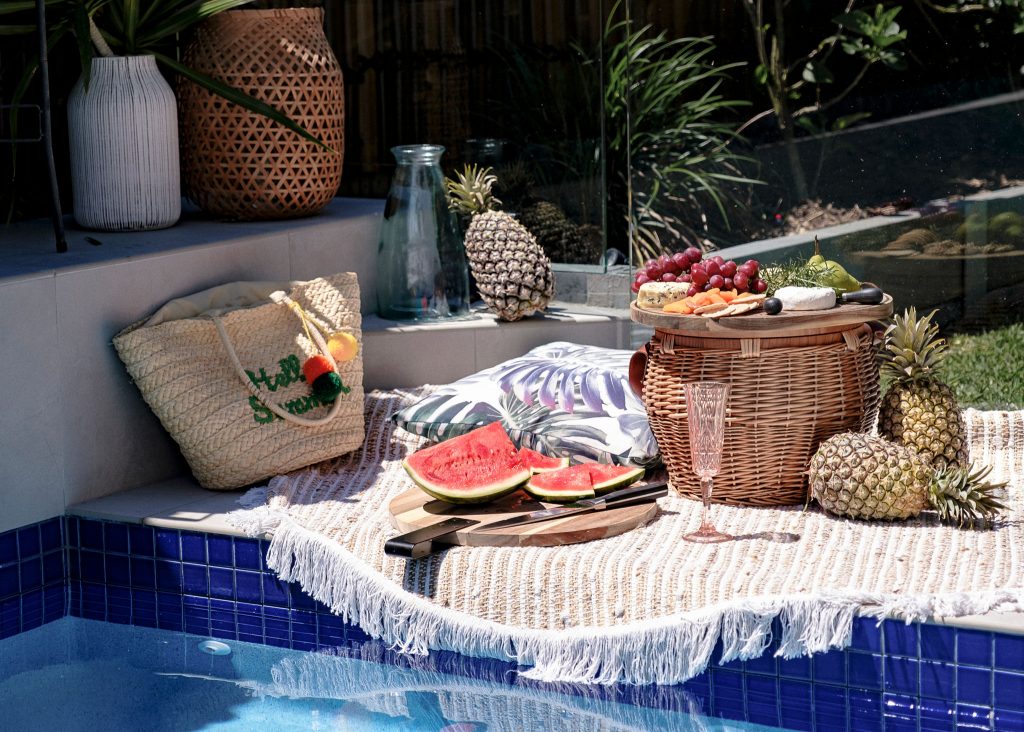 Bringing your furniture, rugs, and food outside is a treat and makes an ordinary meal feel truly special. Cushions and rugs will add comfort and a bohemian vibe. Add layers by using varying heights for interest. Fresh foliage in vases, fruit and flowers are all fun and fabulous styling additions!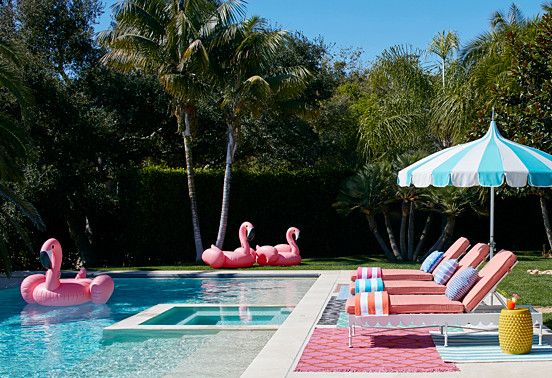 Image: OneKingsLane.com
Oversized inflatables and colourful umbrellas will add a vibrant and happy vibe. If budget is an issue or your pool is on a smaller scale, fill your pool with a dozen or so inflatable beach balls instead of one giant swan.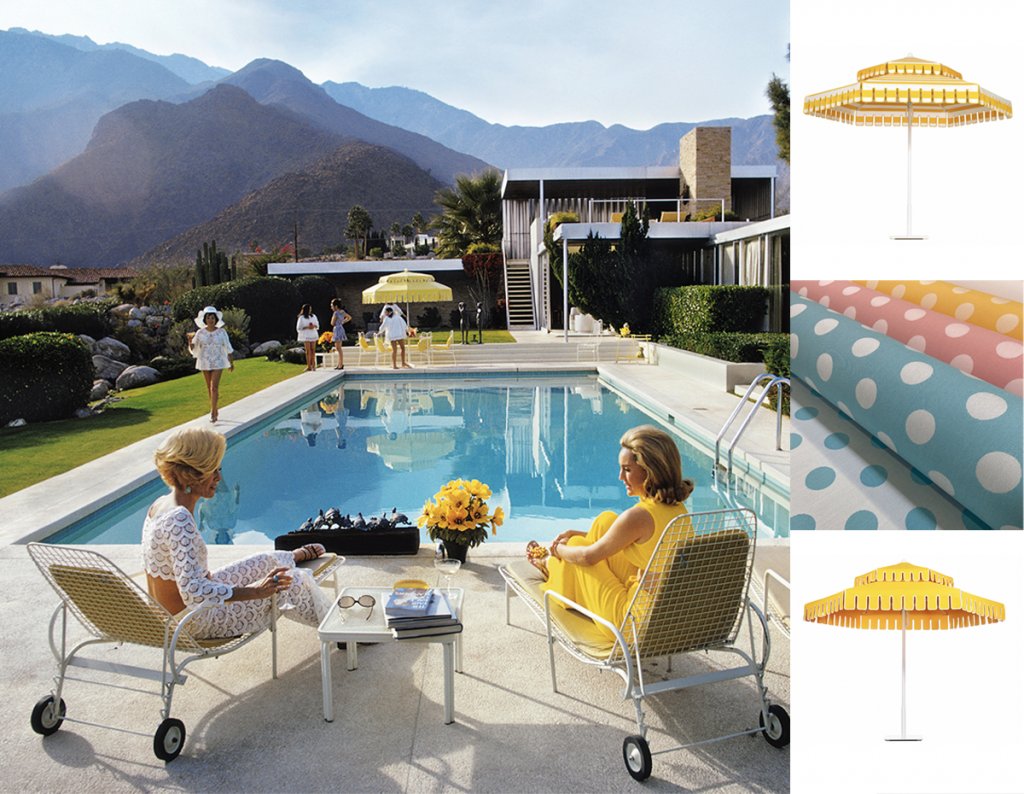 Image: Santa Barbara Designs
There is a fabulous Mid-Century-inspired umbrella supplier called Santa Barbara Umbrellas, and we have recently discovered a stockist on the Gold Coast. Contact me if you would like to get hold of one, I have a trade account there 🙂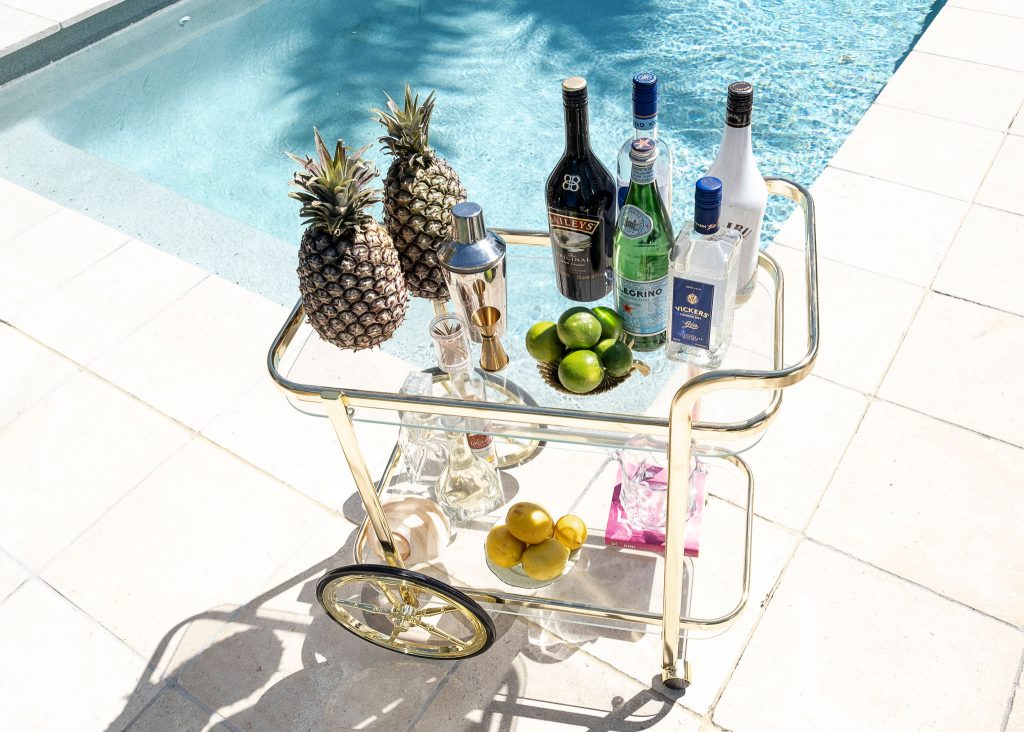 If you have a bar cart, a pool party is the perfect time to wheel her out. Top it up with fresh lemons and limes, alcohol and glassware.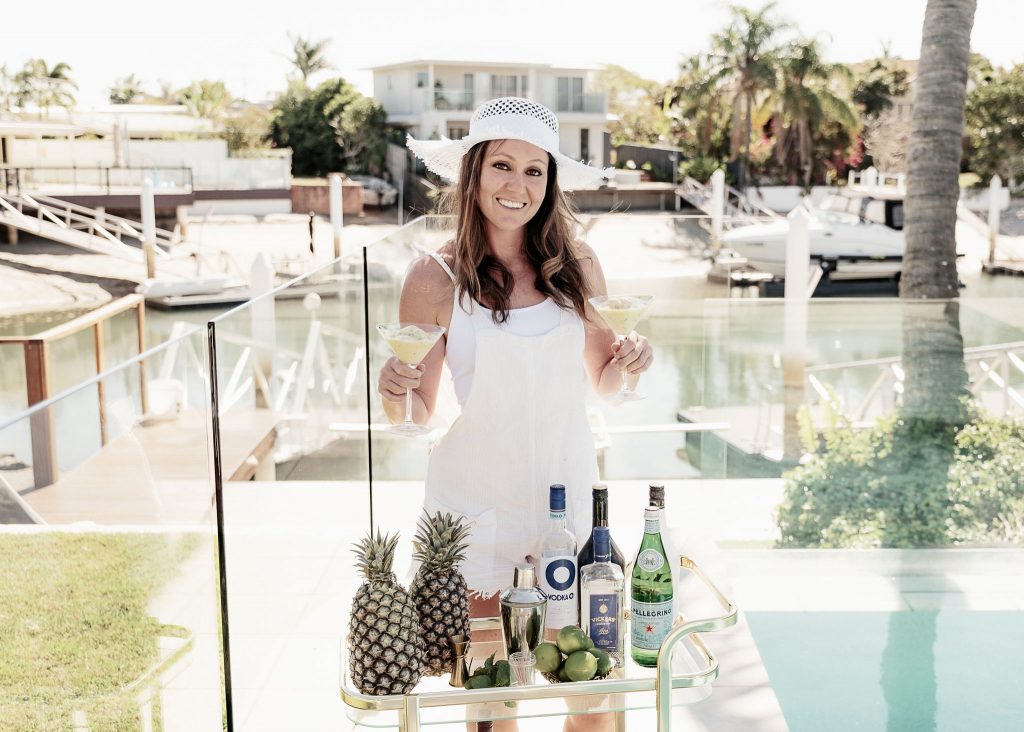 Before your guests arrive, research a cocktail recipe you think your guests will love. Give it a name and you've created a signature cocktail your friends will remember! This cocktail I'm holding is a mango daquiri, which includes white rum, vodka, frozen mango, brown sugar and lime. It was such a perfect October day for it!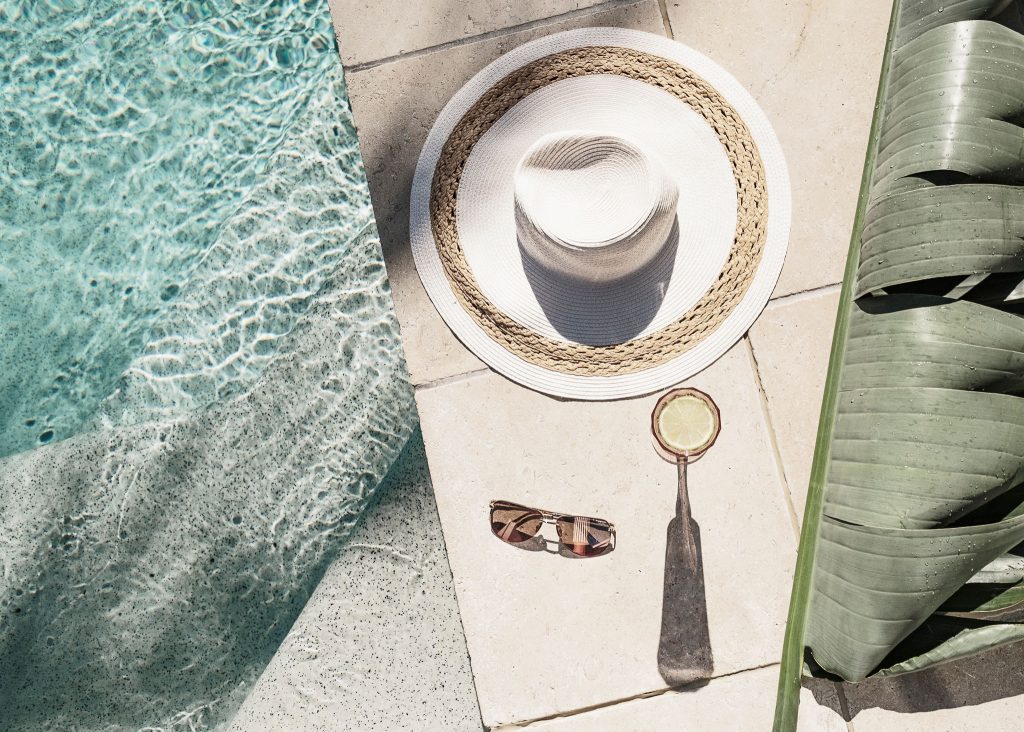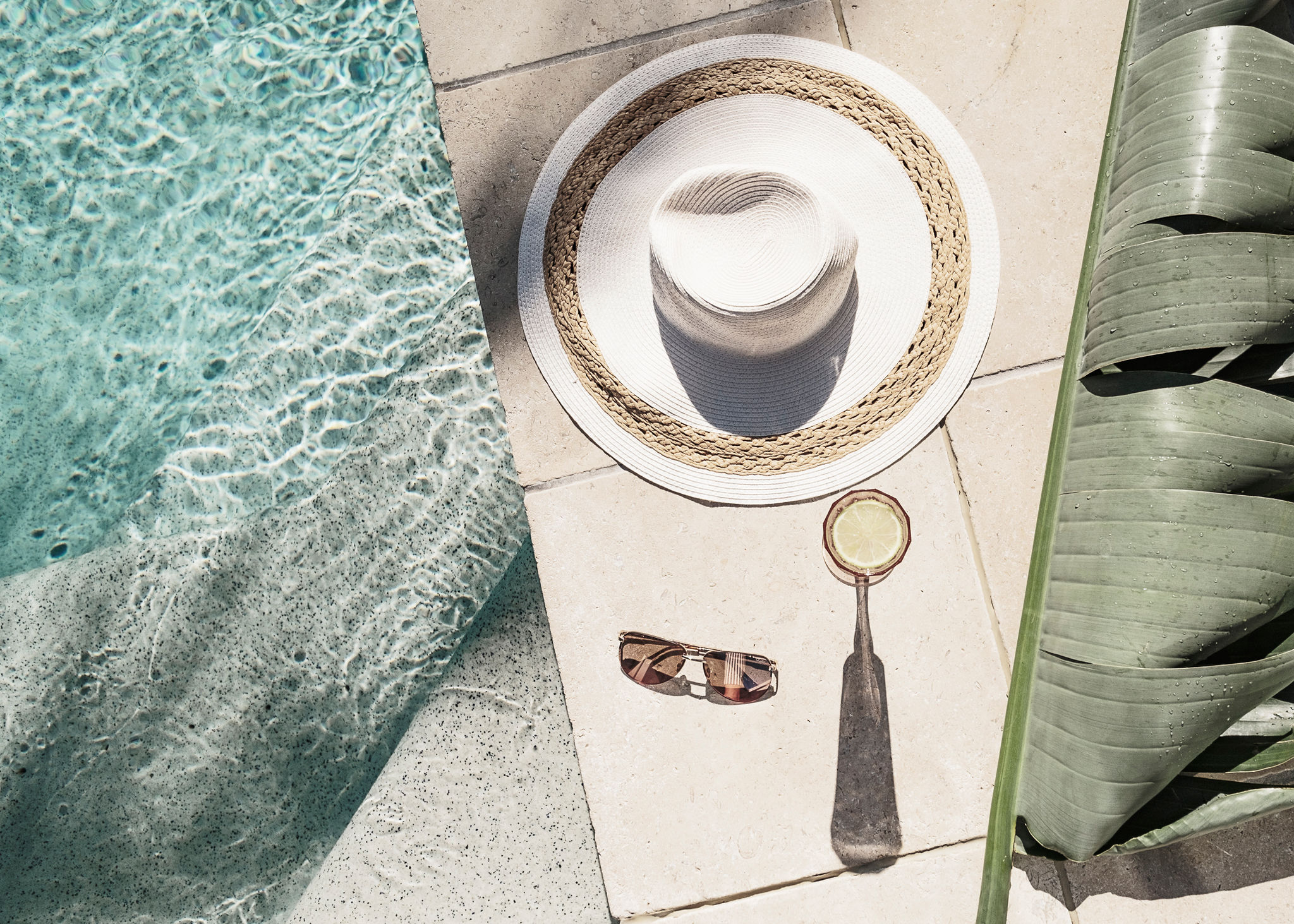 Don't forget to dress the part! Wear an oversized hat and sunglasses to look chic and be sun-safe. The Sunshine Coast is notoriously casual, here we largely wear natural fibres like linen and cotton. A simple cotton jumpsuit, sundress or cover-up will make you feel glamorous even when you're just hanging out around the pool.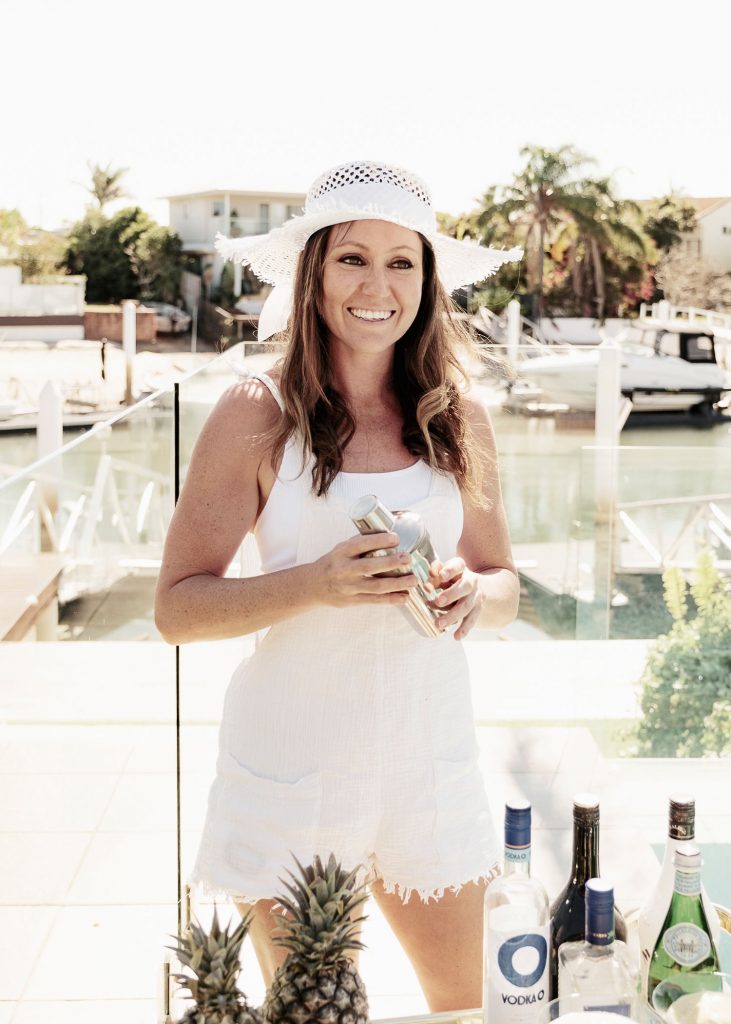 Music will set the scene and vibe. I have a cool playlist called 'Chill Out' that I constantly curate. My inspiration for the playlist came when I was last in Bali and all the beach clubs in Seminyak had cool, mellow Deep House tracks that were just perfect for sunbaking and day-drinking (or recovering from the previous night!) around the pool. Crank up 'Cream On Chrome' by Ratatat to get your pool party started!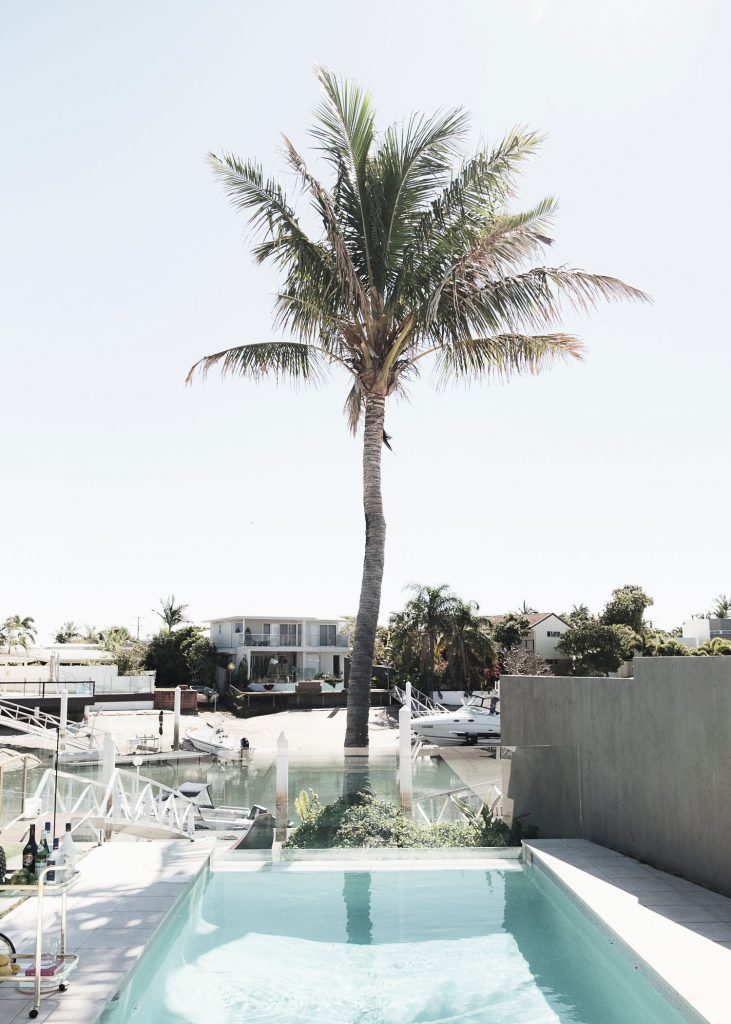 Hopefully you have gained some ideas and inspiration for your next Summer soiree. If you decide to undertake a renovation or new build with Osbourne Family Builders, you will receive a complimentary design package with me! As well as stunning homes, Brad also builds gorgeous swimming pools; call him now and you even have one in time for Christmas! Sophie, Coco Interiors xo